Departure times and dates of operation
Rides in 2014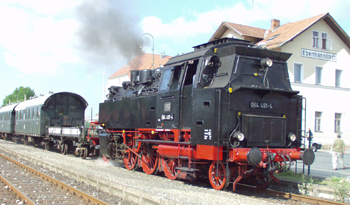 The historic trains of the registered, non-profit association Dampfbahn Fränkische Schweiz (DFS) are running on Sundays and on many public holidays from 27th April to 26h October 2014. The departure times and the dates of operation can be found in the tables below. The fares for the 2014 season can be found in our tariff of fares summary

We hope you will understand, if we have to use in exceptional cases - for technical reasons or operational procedures - other traction vehicles than mentioned below.

Connection trains from and to Forchheim/Ofr. are running every hour (see DB-Timetable, section 821 und VGN-Timetable section R22). The DFS-trains will wait for the connecting trains from Forchheim. Please note possible exemptions on special events with an extended schedule - please note as the case may be our separate information.
Dates of operation 2014
Explanation:


Train numbers 9, 12, 19 and 22 (see table below) are operated by a steam engine (type series ELNA6, Ploxemam or 64class). The train numbers 25 and 26 are operated by a historic diesel engine (type series V36 or V60). Our trains have up to 400 seats. In our restaurant car we offer small meals and beverages


Trains are either operated by a railcar (type series VT 135) or diesel engines (type series V36 or V60). Please note that trains pulled by diesel engines or railcar do not have a restaurant car.
Dates of operation with an extended schedule / unscheduled runs. Departure times may vary. More details you will find on our special events page.


© Dampfbahn Fränkische Schweiz e. V.

Date
Train operated by
Date
Train operated by
27. April
Steam engine
3. August
Diesel engine
1. May
Steam engine
10. August
Steam engine
4. May
Diesel engine
15. August
Steam engine
11. May
Diesel engine
17. August
Steam engine
18. May
Steam engine
20. August
Steam engine
25. May
Steam engine
24. August
Steam engine
29. May
Diesel engine
27. August
Steam engine
1. June
Steam engine
31. August
Steam engine
8. June
Steam engine
7. September
Diesel engine
9. June
Diesel engine
14. September
Steam engine
15. June
Steam engine
21. September
Diesel engine
19. June
Steam engine
28. September
Steam engine
22. June
Diesel engine
3. October
Steam engine
29. June
Steam engine
5. October
Steam engine
6. July
Diesel engine
12. October
Diesel engine
13. July
Steam engine
19. October
Diesel engine
20. July
Diesel engine
26. October
Diesel engine
27. July
Steam engine
Departure Times 2014
)* request stop
Remark: The above mentioned departure times are valid for the dates mentioned below. For days with an extended schedule or days where special events take place other departure times may apply.


© Dampfbahn Fränkische Schweiz e. V.

Train #9
Train #19
Train #25
Station
Train #12
Train #22
Train #26
10.00 am
2.00 pm
4.00 pm
dept.
Ebermannstadt
arriv.
11.45 am
3.45 pm
5.45 pm
10.05 am
2.05 pm
4.05 pm
dept.
Gasseldorf )*
arriv.
11.27 am
3.27 pm
5.27 pm
10.10 am
2.10 pm
4.10 pm
dept.
Streitberg
arriv.
11.22 am
3.22 pm
5.22 pm
10.17 am
2.17 pm
4.17 pm
dept.
Muggendorf
arriv.
11.15 am
3.15 pm
5.15 pm
10.23 am
2.23 pm
4.23 pm
dept.
Burggaillenreuth )*
arriv.
11.10 am
3.10 pm
5.10 pm
10.27 am
2.27 pm
4.27 pm
dept.
Gößweinstein
arriv.
11.05 am
3.05 pm
5.05 pm
10.45 am
2.45 pm
4.45 pm
arriv.
Behringersmühle
dept.
11.00 am
3.00 pm
5.00 pm
The timetable (German language only) is available for download as well...
Limitations in train operations due to a potential risk of forrest fires
DFS would like to point out that limitations in train operations (e. g. interdiction of operating coal-fired locomotives) can be necessary in case of a high and a very high danger of forrest fires. If so we reserve the right to replace steam locomotives by a suitable diesel fueled traction vehicle.